DOA6 design contest
ENTRIES CLOSED
<日本語版はこちらをクリック>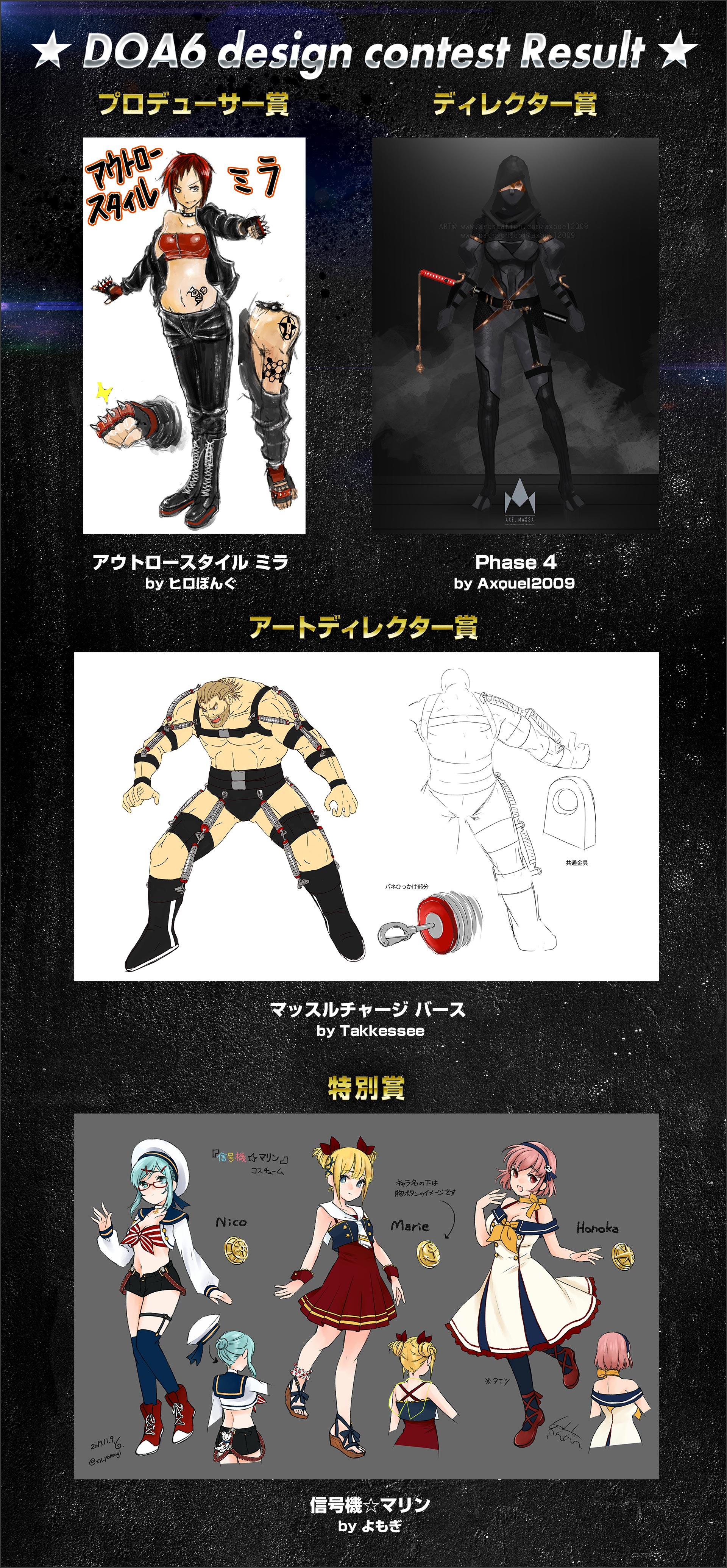 Theme
Brand new costume design for characters in DEAD OR ALIVE 6.
Prize
Nominees
"I'm a Designer" crystal ornament
Judging
Online review/screening
Submit the image files via Email or Twitter by November 10, 2019 along with the details required for entry. KOEI TECMO GAMES will nominate based on the deliverables.
Jury Vote at the Event
After the evaluation by the development team, the Winner and the Honorable mention works will be presented at the venue on November 23, 2019. The Winner's work will be distributed as DLC costumes in the coming months.
Terms and Conditions
Works must adhere to the theme above.
Submit the title of the design in text when applying.
There are no ristrictions on the number of applications.
Entrant must 17 years old or above.
Image file must be JPG format in 16:9 or 16:10 aspect ratio, in either portrait or landscape format.
There are no ristrictions on the design tool (hand drawn, 3D rendered, 2D digital tool, etc).
Designs must be unique and originally designed by the entrant.
Specify which character the costume is designed for. Copied works or illegal character models, modification of existing costumes will be disqualified.
Submitted works may be chosen as future DLC costumes, even if they are not presented at the event on November 23, 2019.
How to Submit
Twitter Submissions
Reply to @TeamNINJAStudio with #DOAFES2019Costume along with the title of the design.
Email Submissions
Send an Email to promotion04@koeitecmo.co.jp with the below information:
Subject: DOAFES2019 Costume
Body text: Title of the design.
Data size limit it 3MB. If the size of the image files exceed the limit, send a link to an online storage to download the files.
Precautions
Disqualification conditions
- Any images which depict discrimination based on gender, race, ethnicity, sexuality or other personal orientation which may cause distress or discomfort to any third party. 
- Images that infringe copyright of others.
- Any images Koei Tecmo Games deems unacceptable.

You may resubmit your work only if it has not been nominated in the past contests.
* All works submitted will permanently become the property of KOEI TECMO GAMES the moment they are submitted by Twitter or e-mail, and will be void of payment or any form of compensation.
* Personal information will only be used for the purposes of running this event, including contacting the entrant and/or sending prizes. Entrants' personal information will be maintained in accordance with the privacy policies of the KOEI TECMO group ( https://www.koeitecmo.co.jp/privacy/PrivacyPolicy.pdf ) and may be kept for a determined period as deemed necessary. Entrants' personal information will not be offered up or shared with any third party without the consent of the entrant, except as required by law upon request by courts, government, or similar organization.
* Entries are being held in accordance with the laws of Japan. The Tokyo District Court will have exclusive jurisdiction over any dispute arising in connection with the entries.

For inquiries, contact: promotion03@koeitecmo.co.jp
Last updated November 28, 2019